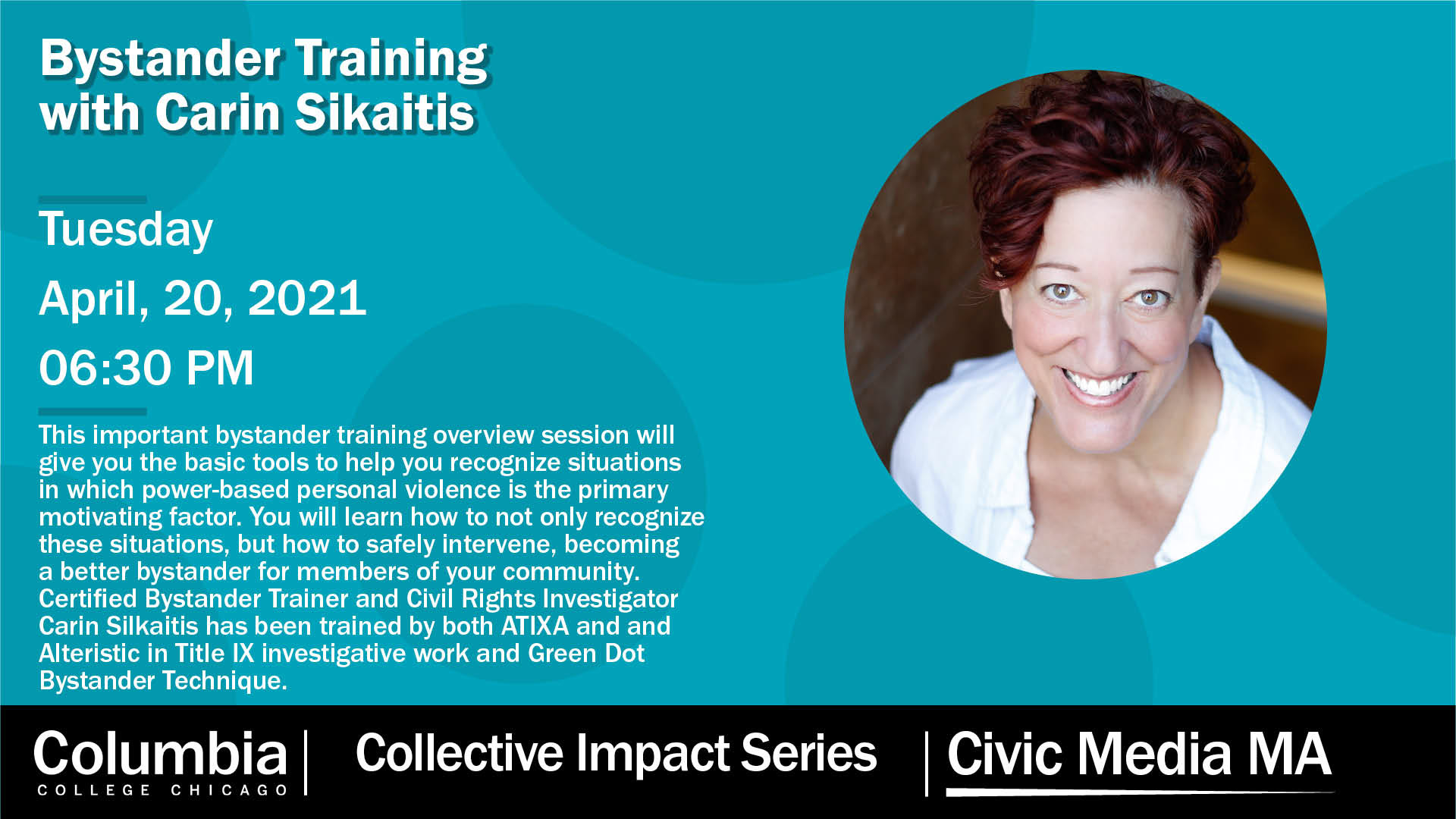 We warmly invite you to bring your questions and your curiosity as 
Carin Silkaitis
 (

https://www.colum.edu/academics/faculty/detail/carin-silkaitis.html

), Allen and Lynn Turner Chair of the Columbia College Chicago Theatre Department, discusses how to use bystander training in your own work and communities and to take a second look at situations that happen in your lives. This important bystander training overview session will give you the basic tools to help you recognize situations in which power-based personal violence is the primary motivating factor. You will learn how to not only recognize these situations, but how to safely intervene, becoming a better bystander for members of your community. No one has to do everything, but everyone has to do something -- what's your Green Dot?
Carin Silkaitis
 (They/Them) is the Allen and Lynn Turner Chair of the Theatre Department at Columbia College Chicago. Some of their favorite directing credits include: LA BOHEME, LA TRAVIATA, and MADAMA BUTTERFLY (Music By The Lake). They directed the world premiere of THROUGH THE ELEVATED LINE at Silk Road Rising which was nominated for a 2018 Jeff Award for Best New Work. At the college level - a few of their favorite's include: THE LARAMIE PROJECT, PHEDRE, THE FLICK, 4.48 PSYCHOSIS, and SPRING AWAKENING. TV/Film acting credits include: Co-Stars on CHICAGO FIRE, THE RED LINE, & EMPIRE, Nurse in the SAG Feature UNEXPECTED, Joy in the award-winning short BEING HERE (winner - Best Supporting Performer, Berkshire Short Film Fest), Kathy in PRECIOUS THINGS, and Maggie in BLOOD AND WATER. Theatre credits include: Mama in A SHAYNA MAIDEL (TimeLine), Mother/Attorney in MACHINAL & Me in I DO TODAY (Greenhouse), Dean Wreen in SEVEN HOMELESS MAMMOTHS WANDER NEW ENGLAND (Theater Wit), Chloe in LIPS TOGETHER, TEETH APART (Eclipse), Doctor Manor in SONS OF THE PROPHET (ATC) & Mama/Sherry/Vera in DISTRACTED (u/s ATC), Holly in VISTING (Artemisia), Queen Margaret in RICHARD III (Oak Park), and Izzy in RABBIT HOLE (u/s Goodman Theatre). Carin has also appeared in numerous commercials, industrials, and VO's. They are a graduate of the School at Steppenwolf, and they received their M.F.A in Acting from the Theatre Conservatory at Roosevelt University. Carin is a member of AEA and SAG-AFTRA. They will be presenting their co-authored paper "The Need For Embodied Dramaturgy: The Laramie Project and Generation Z" at the ATINER Conference in Greece this summer.