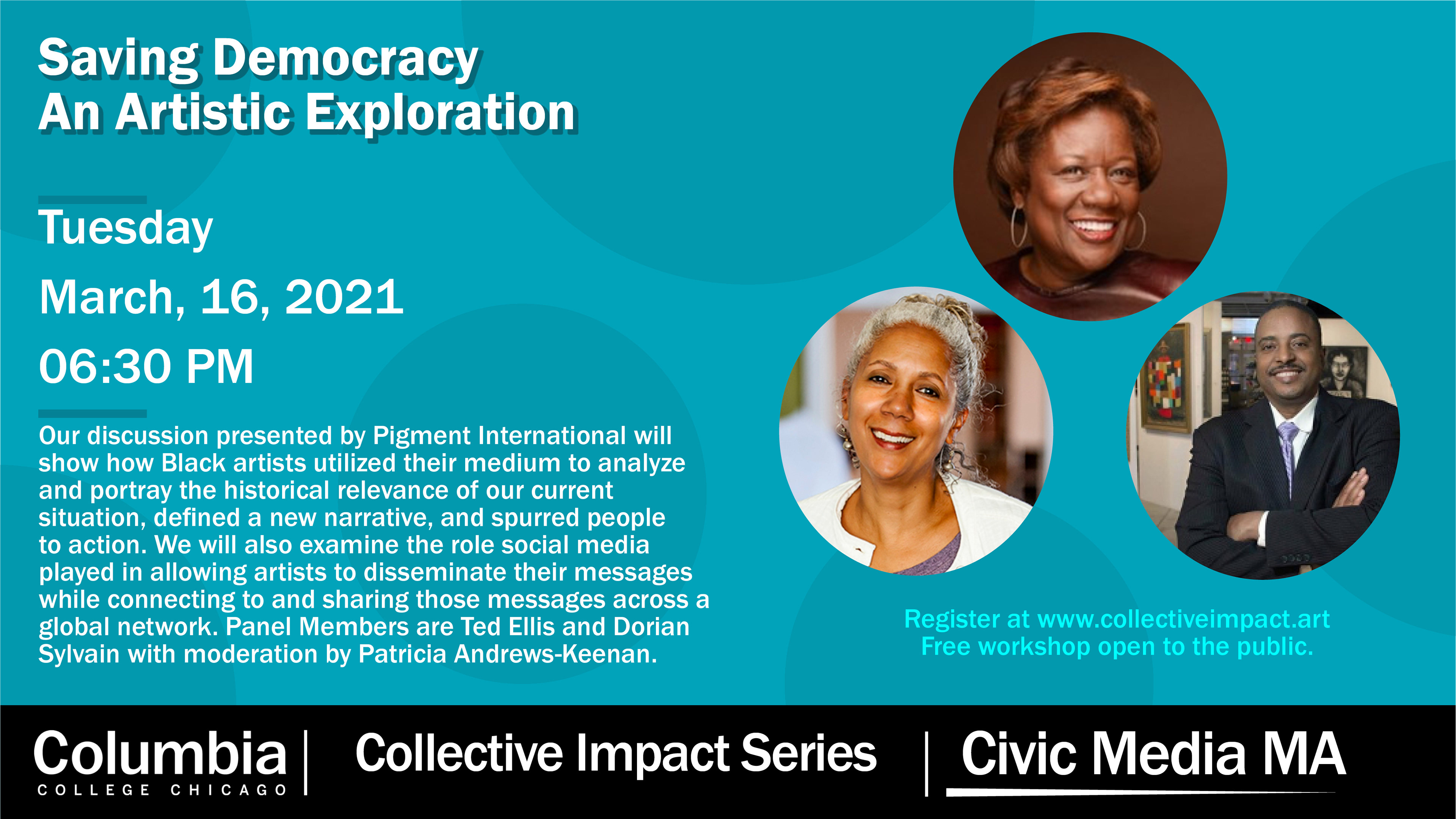 Pigment International
™
is a multi-media arts platform that evangelizes for Black art, curation, and innovation. Based in Chicago, the organization uses arts journalism to advance the Black contemporary aesthetic in the visual arts; we honor the history and relevance of historical Black Art; and we serve as a connector for emerging creators, collectors, curators, investors, and other stakeholders.  We create customized programming that sparks dialogue and inspires our constituents. We are the publishers of Pigment Magazine and founders of Black Fine Art Month. 
SAVING DEMOCRACY – AN ARTISTIC EXPLORATION ™
"There are some years that ask questions and some years that answer." So said author and cultural anthropologist, Zora Neale Hurston.  When we look back on the year 2020 it will be hard to tell which this year was.  Already enduring a once in a century viral pandemic, the long-simmering cauldron of Black anger and resentment toward an America that has ignored our grievances came to a head in 2020 in response to the killing of George Floyd by police in Minneapolis.  Floyd was the match that lit the tinderbox of centuries of grievances too numerous to mention. 
There was also an urgent political battle in this country that some would say pitted darkness against light.  People of Color – Black, Latino, and Asian – voted in record numbers in an election that will go down in the history books as having the highest voter participation in our lifetime.  According to Statistia nearly 70% (66.7) of registered voters participated in the election with rates soaring to 80% in some states.  For her efforts Stacy Abrams of Georgia was nominated for a Nobel Peace Prize. 
Artists have captured this time and place just as they always have, and when we look back on 2020 it will be their work that speaks to both the tragedy and triumph of the year.  Pigment International's Saving Democracy – An Artistic Exploration is a continuation of a discussion with artists rendered as an article in the Fall/Winter 2020 issue of Pigment Magazine.  For the piece we surveyed artists about what they were creating and how they were feeling during the global racial reckoning of 2020.
Our discussion will show how Black artists utilized their medium to analyze and portray the historical relevance of our current situation, defined a new narrative, and spurred people to action.   We will also examine the role social media played in allowing artists to disseminate their messages while connecting to and sharing those messages across a global network. 
Saving Democracy showcases how, through art, we saw the dawning of this the second decade of the century. 
Patricia Andrews-Keenan

- 
Founder, Pigment International
Patricia Andrews-Keenan is the founder and CEO of Pigment International, a multi-media Black art organization formed in 2018.  She is also the founder of the Tallulah Group, Inc. a Media, PR and Community Relations firm founded in 2008.  Andrews-Keenan's practice includes media and public relations, marketing, community outreach, speechwriting and executive positioning.  She has worked for corporate clients, political campaigns, non-profits, institutions of higher learning and diversity and inclusion firms among others.
Keenan is a prolific writer/blogger and founder of Pigment Magazine.  She is a frequent contributor to local and national publications including Minority Business Enterprise (MBE) Magazine, The Financial Manager Magazine, Black Enterprise Magazine (BE) and the Chicago Defender.
Clients include Media Financial Management, The Walter Kaitz Foundation (WKF), University of Her background encompasses stints as a journalist, PR manager, government affairs director, communications and corporate affairs executive with Fortune 500 companies.  Andrews-Keenan served as Vice President of Corporate Affairs for the Nielsen Company and Regional Vice President of Communications and Corporate Affairs for Comcast's Chicagoland operations. She also served as Vice President of Communications for AT&T Broadband and Director of Government Affairs for Jones Intercable.
Her work has been awarded the Gold and Silver Anvil Awards from the Public Relations Society of Chicago (PRSA), and she has received numerous personal awards including the Chicago Defender's Woman of Excellence.  in 2017, she was selected to be a part of the Chicago Innovation's Award's Women's Mentoring Program.   She is a graduate of Grambling State University.  
Ted Ellis is a passionate man. He is passionate about his family, passionate about his heritage, and passionate about his art. Just ask him and he proudly declares, "For more than 30 years I have painted subjects that are representative of the many facets of American life as I know it. I like to think of myself as a creative historian. I was put here to record history and all aspects of American culture and heritage. My sole purpose has always been to educate through my art." T. Ellis grew up and was educated in New Orleans, a degreed Chemist, and graduate of Dillard University he has always been inspired by a city known for its history, style, and artistic exuberance. This backdrop inspired T. Ellis to capture the essence of the subjects of his childhood in the glory of their rich cultural heritage.
In December of 2019, T. Ellis completed his master's degree in Museum Studies at Southern University in New Orleans (SUNO) and will eventually pursue a doctoral in the same field of study. His continued efforts are to advocate for the importance of visual literacy and continuing his commitment of preserving African American history and culture through art have been paramount. T. Ellis is keenly aware that visual comprehension increases learning. He wants to bring greater awareness to the importance of diversity and inclusion in the workplace, schools, universities, cultural institutions and museums, showing how this will provide an enriching opportunity for people in communities throughout the United States. Mr. Ellis is the first African American artist to be appointed to a federal commission. The 400 Years of African American History Commission established by the Department of Interior is responsible for planning and creating programs that will recognize and advance the historical and cultural contributions of African Americans since 1619 under PL115-102. The official federal logo and seal, as well as the 400th Distinguished Service Award was created by T. Ellis. Each will become part of the U. S. National Archives. T. Ellis artistic talents has provided him the opportunity to be appointed as Scholar-in-Residence at Old Dominion University.
Dorian Sylvain
 is a painter whose color and texture explore ornamentation, pattern, and design as identifiers of cultural and historical foundations. She is a studio painter and muralist, as well as an art educator, curator, and community planner. Much of her public work addresses issues of beautification inspired by color palettes and patterns found throughout the African diaspora, particularly architecture. Core to her practice is collaborating with children and communities to elevate neighborhood aesthetics and foster shared understanding. In addition to commissioned studio and mural work, Sylvain has led public art projects over the past four decades that empower community and expose children to art making. Partnering with such organizations as the South Side Community Art Center, Hyde Park Art Center, National Museum of Mexican Art, DuSable Museum, Chicago Park District, and the Chicago Public Arts Group, she has devoted her work to building the next generation of "cultural keepers."